Mauricio's Stone Craft is a full service installer of countertops made from Granite, Marble, Quartz, Quartzite, Ceasarstone, and silestone with various edge finishes. Mauricio also installs sinks including the required plumbing so your sink is in full working order when he completes the installation. We also sell remnants at our showrooms.
Maurico's Stone Craft has over 20 years of experience and is family owned business.
Have several remnants to choose from, (Quartz, Marble, Granite, Quartzite) at a reasonable price. stop by for complementary coffee, snacks, water, and great customer service. 
MAURICIO'S STONECRAFT specializes in the fabrication and installation of beautiful stone products, including granite, marble, quarts, ceasarstone and backsplash for commercial and residential applications throughout the DFW metroplex. 
We also have a variety of installed sinks for you to see and can help you understand the difference between an under mounted sink and a top mounted sink. We offer sinks made of ceramic, stainless steel, and composite. And don't forget, your sink will not only be installed, we will also make sure all the plumbing work is completed as well.
Mauricio's Stone Craft offers residential and commercial services.
MAURICIO'S STONECRAFT es un servicio completo,instalador de Tapas de  granito, mármol, cuarzo, cuarcita, Ceasarstone, y silestone con el borde de varios acabados. Mauricio también instala fregaderos incluyendo la plomería requerida para que el fregadero este en funcionamiento cuando se complete la instalación.
También tenemos una gran variedad de (sinks) o fregaderos instalados para que veas y puedas  entender la diferencia entre un bajo fregadero montado y un fregadero montado superior. Ofrecemos fregaderos de cerámica, acero inoxidable y compuesto. Y no sólo se instalará el fregadero, también vamos a hacer que todo el trabajo de plomería sea completo.
Piedra Artesanal de Mauricio ofrece servicios Residenciale y Comerciales.
We have several colors in slaps and Remnants at a reasonable price.    Fabrication included.     Have sink's, Faucets, Granite, Marble, Quartz, tools as well.
---

Want to give us a review?
Please go to our Facebook page and give us your feedback!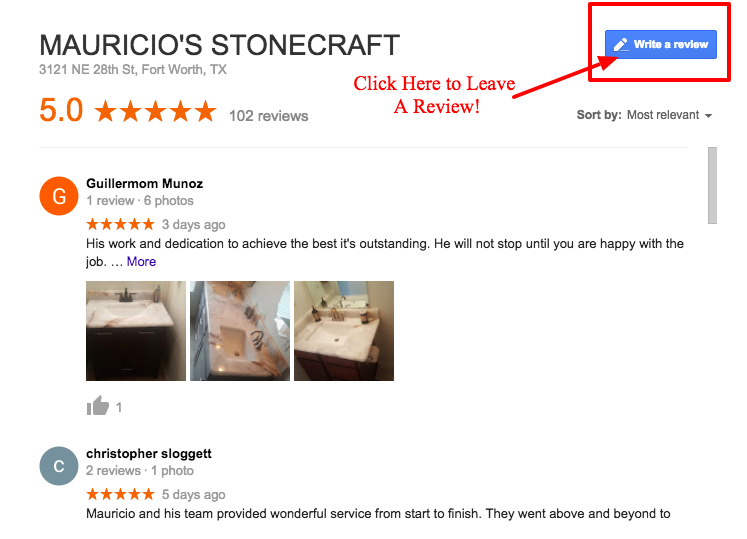 We have a huge selection of materials here available in our showroom, feel free to come check us out, no appointments necessary. We have the best prices, and the best quality work, we work with any kind of budget. 
We are open from Monday-Sunday 
Monday-Friday       8-5p.m.
Saturday-Sunday     8-3p.m.